Rebel Pilates
UX / UI IOS APP DESIGN – 2019
Meet Rebel Pilates, a new Pilates studio launching in Australia introducing a contemporary approach to a healthy lifestyle. The application is primarily a class calendar and booking portal site whereby members can schedule classes, access their payment information and update their membership details. The client wishes for the app to launch with unique features that are specifically designed for each individual using the app. 
Identify design opportunity for new app to enter the market with a new direction and unique selling points. Use Qualitative research interviewing users to identify needs/any current issues and gaps in the market. Analyse current market competitors and the target audience to create personas. Design a marketing campaign for the app for desktop, ipad and iphone for initial app launch. Create a working prototype using the software Axure. Test with users to identity areas for improvement and create solutions based of user feedback. Annotations interaction and design document for developers, including the basic styling rules. Site map including all pages and navigation between each page within the app.
Research 
MARKET & USER RESEARCH
I completed in-depth research to gain an understanding of the current market, user needs within this particular industry and the client's vision and branding aesthetics. A competitive comparison of three major businesses within the industry was conducted, which revealed common design patterns and a high similarity in content. This research presented a clear window of opportunity to launch as new and exciting addition to pilates fitness market. The app has the potential to stand-out within the market by introducing additiontional USP functionalities and taking a new user focused design and unique structuring approach.
Users within the target audience segmentation were then identified and reached out to for user interviews. The interviews explored each users requirements, their personal and familiar behaviours along with their pain points when using apps, specifically for booking and fitness services. These findings generated two major personas, which categorise different user approaches, action and decisions. The outcomes were analysed and the key points gave an understanding of the challenges within the industry and clear direction of how to create solutions. These solutions will aim to be competitive in the market and designed in line with the users requirements. 
User personas 
user needs & pain points
I was able to explore the different experiences and the challenges to overcome when creating the design solutions. I focused on exploring their requirements and desires, as well as empathising with their paint points.

I identified two key personas that share common interests and differences through questioning and listening to how these users think, behave and how they interact with booking and fitness applications

Each user requires personalised fitness information and quick-to-use functionality when performing bookings. In addition, each user expects high security and location sharing and notification settings and options. However, the users differ by how much they are willing to pay for additional services and primary reasons for using this type of app.

I began to construct an idea of what primary and additional features should be included to match the users preferences. In order to cater to both groups of users, I used this information to create an IA that categorises the type of user based on their member status. The member status means that they can choose what level of information they have available to them. Further, a focus on security and notification solutions that are customisable to personal preference where taken into consideration. I then structured the content accordingly and created customer flow diagrams to address each user path within main functionalities
Outcome concept
Derived from research
Rebel Pilates will be an iOS application designed for Pilates fanatics that are members of the Rebel studio, primarily based in Australia. The app will have a specific members only area with a variety of specialised functionalities, depending on which level of membership. This app will enable members to book classes with ease as a primary function and will include additional tailored and personalised fitness and nutritional information for each user. The app will also be available for 'non-member' download, whereby the user can browse member packages, get a glimpse of general fitness information and check out studio timetables and classes. 
The overall goal of the app is to create an interactive platform that will enhance the users comprehensive experience of the brand and likability of the studio. The app will aim to entice users to become a membership at this particular business and the overall engagement socially.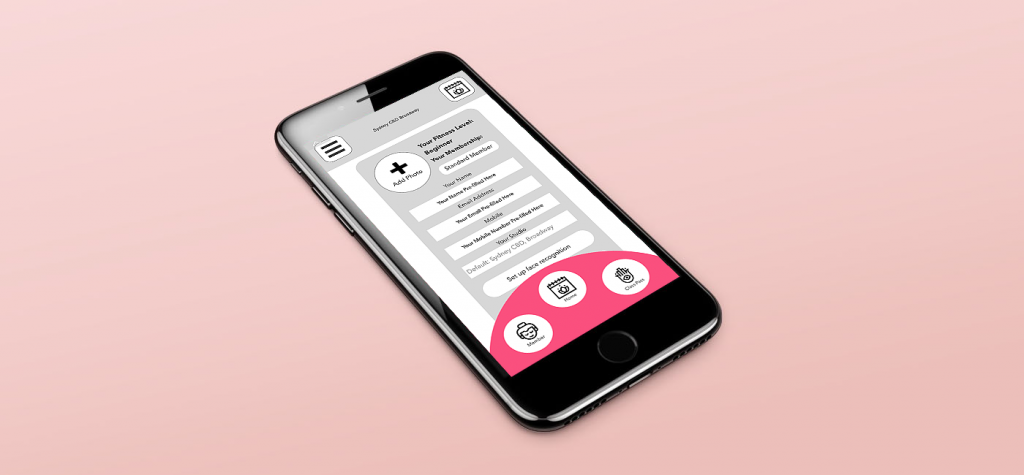 The design approach
WIREFRAMES – ADOBE XD
FULL PROTOTYPE – AXURE
I began by sketching up wireframes and storyboarding ideas to generate successful customer flows. I researched design inspiration and current trends in UI to grasp a solid visualisation of how I should aim to structure the content with a clear, concise and savvy design direction. From the use of UX, IA and flow diagrams, I created low fidelity wireframes and developed these further to create a clear interactive prototype. I started to create initial mockup designs to give a branding direction for the client before testing the prototype with the user.
First iteration of high fidelity design concepts
3 X U I DESIGNS FOR MAJOR APP SCREENS
1. LANDING PAGE 2. HOME SCREEN 3. MEMBER DETAILS PAGE
The user interface mockups combine the feedback from the user research and create a visually appealing simplistic and easy to use design for both primary and secondary functionalities. The design aims to create a solution for an quick and easy to use booking portal where users can locate quick link menu for primary actions, their member details and their class passes for scanning in at the reception desks. The UI features utilise icons that represent different pilates variations in a bright and colourful format which mirrors the businesses current colour scheme and branding  t o create user familiarity for current members and build a brand identity for new users to become aware of.
Refinement of UI mock ups
The initial designs were presented to the candidates interviewed for the prototype testing and the feedback was taken on board accordingly. The user feedback represented the opportunity to enhance the usability and visuals of the navigation menus and additional pages to replace quicklinks.
The refinements address a main visual issue whereby users had difficulty locating the filter options and top navigation menus. Design changes have been made to make each section clearer and buttons stand out individually through added button information, adjusting the aligned placement of top menu elements into a new format. Further, feedback was received in regard to the quick link menu options, users expressed that they would prefer to access their classes rather than their member details, as this would be a primary source of information they would want quick access too. 
The feedback also created an additional UI main page mockup page of the 'My Classes' page. As many users liked the colour scheme, icons and visual structure, minor adjustments were made in line with the refinements to build upon the visual likability and usability of the design.