GB – Credit cards
Greater Bank – Credit cards
UX/UI/research – iOS ANDROID WEB – 2021
Role: UX Designer
Department: Digital Transformation
As the UX Designer responsible for the lending squads, credit cards was a complex project assigned to our team. We were responsible for all things lending, from applying, transacting and closing accounts. The bank already had research on most of its lending products however, credit cards at the time was an untouched product in terms of research and UX, and therefore needed a lot of exploratory and customer research to transform the experience.
Viewing and transacting on a credit card were are two initial projects for each squad. We needed to learn how users utilise their credit card, spend, transact and why they apply for Greater over other available banks. A full analysis of the current platform was required, market research and user research to really understand what we can do to enhance the experience to match user needs and expectations.
Getting started with BAU and company research
It was important to me as a designer to understand the current processes across credit card products for new and existing customers. I needed to understand the current customer journey for ways to view and transact using a credit card and worked closely with the Product Owner to align understanding to meet both customer and business goals for this product. I also partnered with a UX Research to gain insights into the credit card market and understand a bit more about our users.
Initial Exploratory research
Working hand in hand with the UX Researcher, we were able to pull data and information and credit cards in the market, including current Greater Bank usage. Main research questions included:
– Who has a credit card?
– Why Greater Bank? What information is important to our Credit Card users?
– Where does our product sit in comparison to others in the market?
Please see below some snippets of examples.
Prototype for interview/usability testing
The prototype was created in Axure to create a real interaction.
Interviews/usability research
We interviewed 10 current Greater Bank credit card users. We asked them general questions about their credit card usage and understanding, and then went through a usability testing of the new proposed flow and information.
Why did you apply for a Greater Bank credit card/what do you use it for?
What do you know about your Greater Bank credit card interest rate?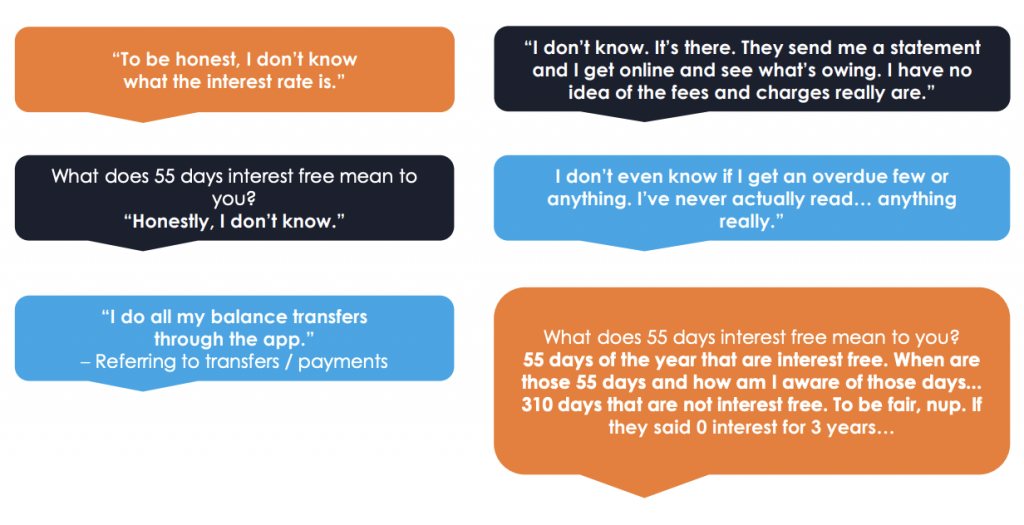 Key findings from usability testing:
– We should continue to headline to headline the available amount, and consider using an 'owing' label instead of balance for the secondary figures.
– Giving users a full breakdown of repayment types could increase the frequency of this payment if it is not set up as automatic. We should therefore consider including 'full balance', 'minimum repayment' or the ability to enter a specific amount whenever a user selects to pay to a credit card from other accounts. 
– To manage the credit card limit, users expect to find this option in their settings.
The research and usability testing helped to understand exactly how our users want to transact and what information they do and don't know. This feedback was then taken onboard to create a final iteration of the designs in Figma for iOS, Android and Web. The designs were polished, sent to the Product Manager for approval. I worked closely with the development teams to ensure the final design was implemented correctly. This is now available in the Beta version of the app and will be available to the public next year.  
Android (Material Design)