Hide/delete
Insight Timer – Hide/Delete feature 
Role: UX Designer
Department: Product/Retention team
Type of project: 
Feature request from user feedback channels
Every month, I monitor and conduct an analysis of user idea submission requests, reviews and customer UX support tickets to understand what we could do to improve our current user experience. Within the past 5 months, users have consistently requested for a way to hide content and delete items from their recently played list (this is a key space users utilise to locate tracks they listened to and liked).
How can we implement a hide/delete feature within the current UI, without disrupting the simplicity of content cards and ensure other key interactions are not sacrificed for the additional hide and delete features?
Improve retention through relevant user content and utilise hidden content feature as a way to boost credibility of our recommendations system. 
As a first step, a full analysis of all user feedback channels was conducted with focus on playlists, tracks, and teachers to note other avenues that have received similar feedback. This was followed by a market research analysis to see and understand if and how other key players in the streaming business tackle this user requirement. 
User research insights (examples)
"Don't want to do again button It would be nice if there was a way to make a note privately that I have tried a meditation and don't want to do it again."
"Ability to delete a meditation from my previously listened to I often go back to the same meditations I've listened to, but there are a few in the list that I didn't particularly like. Would be nice to delete so I don't accidentally keep clicking on them."
"Hide or do not show – meditation option: Hi. It would be great if you could create an option to hide, opt-out, or not show a meditation."
"Option to "never suggest again" I would love the option to not see a particular meditation suggested again. In the same way that I can save a favourite or save a meditation to a playlist, I would love to be able to choose to never see it again."
Market research (examples of key influencers)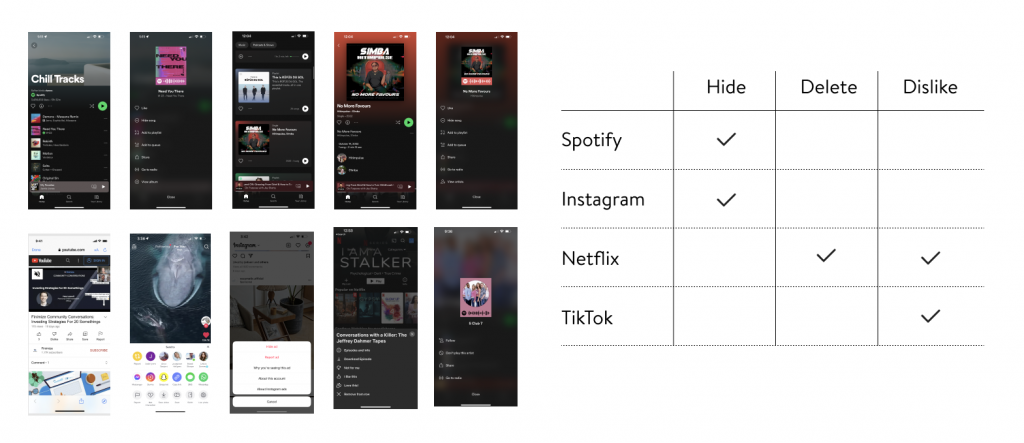 Competitor research highlighted that most platforms enable users to hide, dislike or remove content that they do not wish to see or interactive with. It appears this is also used for search results and algorithm purposes. This feature could be a great way for us to improve our recommendation search engine and help users find content they like quicker, faster and easier!
Ideating – deleting/hiding concepts
I then mocked up a few concepts up for deleting/hiding content throughout different entry points in the app. The most effective and simplistic solution that aligns to user needs is to implement a hide feature across content cards and within teacher profiles. Hidden content can be managed in the user preferences. This interaction has been built in other features in the app, such as journalling, and therefore should be a learnt user interaction behaviour. See below the different ways this feature could be implemented into the design, including; menu options in a slide up, swipe to delete/hide, warning/information sheets to ensure the user understands what they are actioning and a way to manage/view hidden content.